Laureate Home Renovations is your leading kitchen renovation specialist serving Langley, Walnut Grove, Brookswood, Fort Langley, Murrayville, Aldergrove, Surrey, Cloverdale, White Rock, Delta, Abbotsford and Maple Ridge.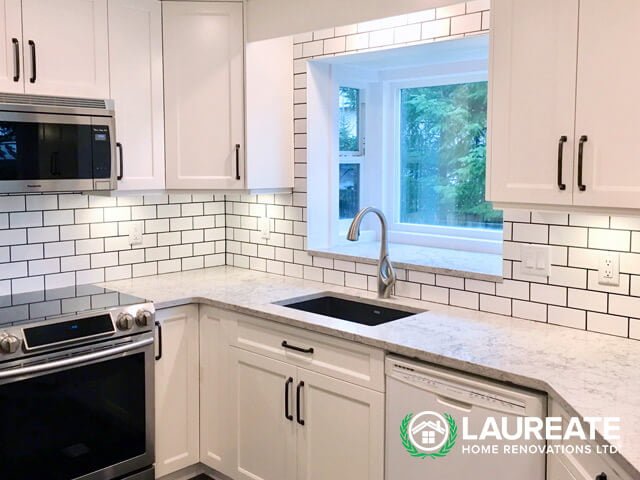 Let Laureate Home Renovations turn your kitchen renovation in to an exciting creation and a relaxed experience. For years, Laureate Home Renovations have been beautifying residences throughout Vancouver and the surrounding area where kitchen renovation is our specialty.
Laureate Home Renovations have worked with homeowners to create functional, organized and comfortable spaces in their home. With top quality craftsmanship and professional competence, we can make your dream kitchen a reality.
From concept to completion, you can depend on us for superior top quality handiwork with minimal interruption throughout your kitchen renovation. Dealing directly with one person is a lot easier for you, and ensures the work is done right the first time.
Our process starts in the comfort of your home with an appointment. Together, we will discover practical solutions and a selection of designs that match your tastes and needs. Once this process is complete, we will present you with a quote and a comprehensive plan detailing the timeline, products and specifics of your renovation.
We also provide bathroom renovation services. For more information, please visit the photo gallery for samples of our projects or our bathroom renovations page.
Get in touch with Laureate Home Renovations today to arrange your kitchen renovation consult by calling 778.885.7314 or fill in the short form below.
Copyright 2018 Laureate Home Renovations. All rights reserved.
Call today for a FREE consult for your kitchen or bathroom renovation: 778-885-7314
Powered by BUGG Marketing Inc.